Hey it's Brent here from QuickSilver Home Business and I just got a great email I want to share. It talks about gold and the likelihood of its renewed push higher. This is going to bode well for silver. We all know that silver follows gold, both up and down. When there is a move higher in gold then you can be sure your silver coins will be worth more money.
In there opinion a speculative long position in gold, silver, and mining stocks are justified from the risk/reward point of view at the moment of publishing this Alert.
Gold Right Now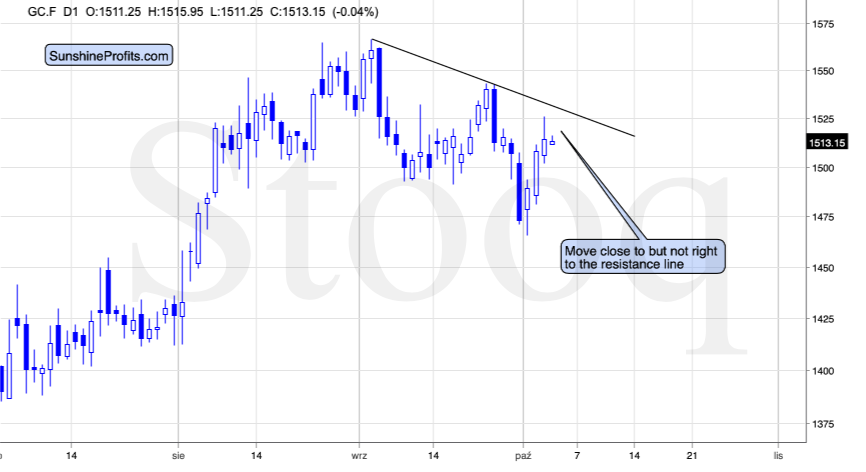 Gold moved higher and erased some of its daily gains before reaching the resistance line. It's not doing much today so far. This suggests that gold simply hasn't rallied enough and that we should expect another quick upswing shortly.
Gold and the Likelihood of Its Renewed Push Higher
So I don't want to give out names but according to these trading pros the chance for gold to trend higher is good. This means silver is in a good place. Being a much smaller market the movements in the silver price could also swing higher. Let's see what they say about the silver price in the coming weeks.
Gold and the Likelihood of Its Renewed Push Higher. Based on how close gold is to its resistance line, it seems that it will be first to reach its target. This will create a relatively risky situation from the point of view of the long positions in silver and mining stocks. The bullish signal was strongest in case of gold, so it is very possible that gold will be the only part of the precious metals market that rallies indeed visibly. Consequently, once gold hits its upside target, we think that taking profits off the table and entering a short position in gold, silver, and mining stocks will automatically be justified from the risk to reward point of view.
Gold and the Likelihood of Its Renewed Push Higher
So what these guys are saying is that gold could push higher but will be limited. I mean no one knows for sure what will happen but it will mean that silver should stay strong. But of course that maybe just my wishful thinking. Let's see if I can dig up some more clues.
Critical factors:
Gold and the Likelihood of Its Renewed Push Higher
Well there you have it. In these guys opinion this is a false rally and the price of silver could be headed lower. This is good for us because it means you will be able to buy silver coins cheaper. Cost averaging here at QuickSilver home business is what were looking for. Prices in Gold and Silver always move up and down. Our whole concept is to attain the precious metals over time to build wealth.
If prices drop and you are on the automated silver coin delivery plan it means you will be getting them cheaper. As prices rise and fall it will average out over the years that you got your collection at an average price. Instead of you buying all your silver coins at once and then a downswing in the market happens you will lose money. Buying through a monthly plan will even out costs over time and bring you more wealth. So what are you waiting for. We want the prices to drop so we can collect those legal tender silver coins cheaper.
Start building your wealth today with me here at QuickSilver Home Business. Become a dealer yourself and tell all your friends. It is a great home business that is super cheap to do and a whole lot of fun. Also you will be contributing to the Worlds Starving Children fund. Let's get together and help these children get food.